MIGF Special Event: Freedom on the Net 2021
The Internet Governance Forum will take place in Chisinau on October 19-20. The discussion of current problems of the digital agenda and the development of the Internet will be focused on 4 main tracks relevant for the annual discussion in all formats of the United Nations IGF: trust and security, digital Inclusion and bridging the digital divide, digital rights and freedoms, digital data.
Forum agenda consists of 8 plenary sessions and panel discussions, including a special event, jointly organized with Freedom House – an independent watchdog organization dedicated to the expansion of freedom and democracy around the world. Panel session "Internet freedom in Central and Eastern Europe. Trends and challenges, lessons for Moldova" is scheduled for October 19, from 16-50 to 17-50 local time (UTC +3).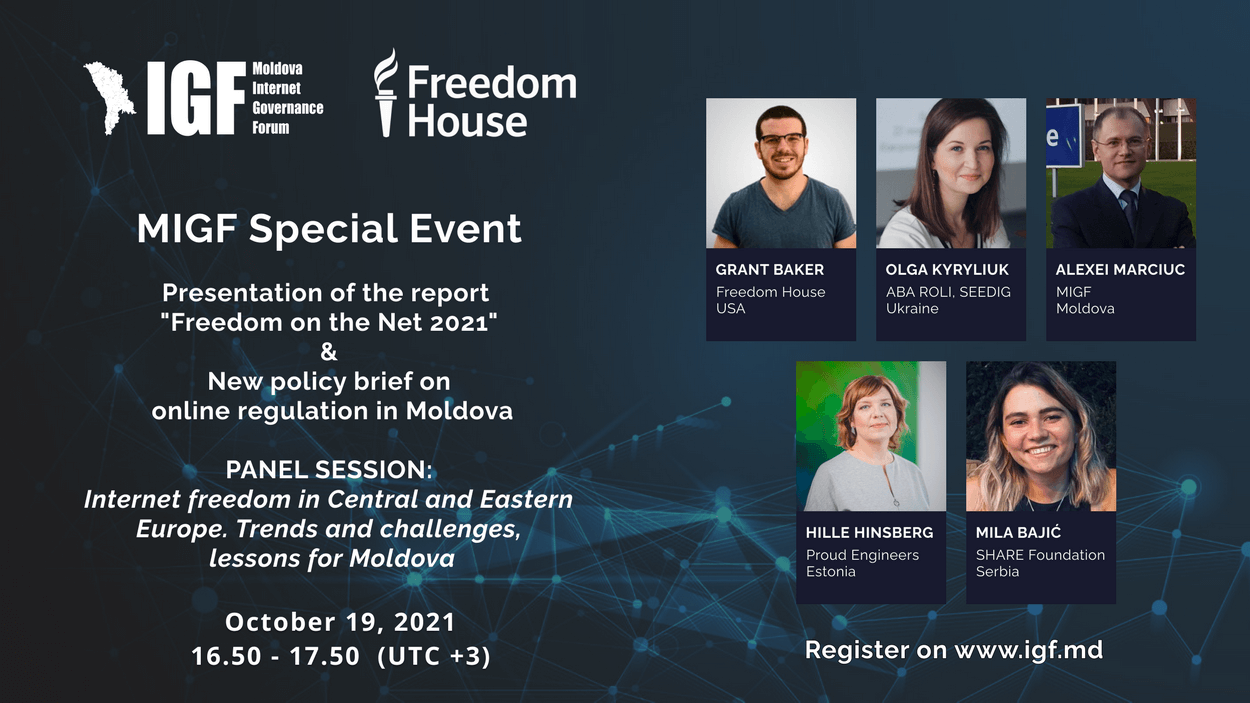 This panel session will examine recent developments and trends impacting Internet freedom across Central and Eastern Europe, with a particular focus on case studies in Moldova, Ukraine, Estonia and Serbia. It will highlight findings from Freedom House's most recent Freedom on the Net (FOTN) report from 2021 as well as a new policy brief overviewing the environment for online regulation in Moldova.
This year's FOTN report documents how in the high-stakes battle between governments and technology companies, the rights of internet users have become the main casualties. With a few positive exceptions, the push to regulate the tech industry, which stems in some cases from genuine problems like online harassment and manipulative market practices, is being exploited to subdue free expression and gain greater access to private data.
At the same time, Freedom House's new policy brief examines trends in the regulation of the online environment in Moldova, considering the extent to which the country complies with international norms connected to freedom of expression, dissemination of information, and balanced monitoring of online content. ​It calls for the development and application of common principles, norms, and decision-making procedures governing the online environment that are based on a broad multi-stakeholder approach and consider economic, political, and socio-cultural dimensions.
To register for the MIGF, use the online form on the website igf.md. Registered participants will receive the connection details to join this meeting by e-mail.
We look forward to seeing you online!
The MIGF Team